Paired with supply-chain disruptions and ongoing component shortages, the energy crisis and rising costs of living are impacting automotive markets across Europe. Even Switzerland – one of the world's most stable vehicle markets – cannot escape these latest developments. So, how are the country's used and new-car markets holding up and how are residual values (RVs) developing?
This and other questions were addressed by Eurotax Switzerland (part of the Autovista Group) in its latest webinar, Automotive Trends in Switzerland. Robert Madas (regional head of valuations, Austria, Poland, Switzerland) was joined by Hans-Peter Annen (head of valuations, Switzerland) and Patrick Schneider (deputy valuations and quality manager, Switzerland) to analyse recent market traits.
One key development is the rising prices of new passenger cars and light-commercial vehicles. As Annen explained, list prices are going up for a number of reasons; there are real price increases and also a change in the model mix. New vehicles are also becoming more connected and carry the latest technology, including advanced-driver assistance systems. Additionally, electrification is having an impact on list prices as battery-electric vehicles (BEVs) tend to be more expensive than their fossil fuel-based counterparts.
Development of list prices for passenger cars, Switzerland, 2013-2022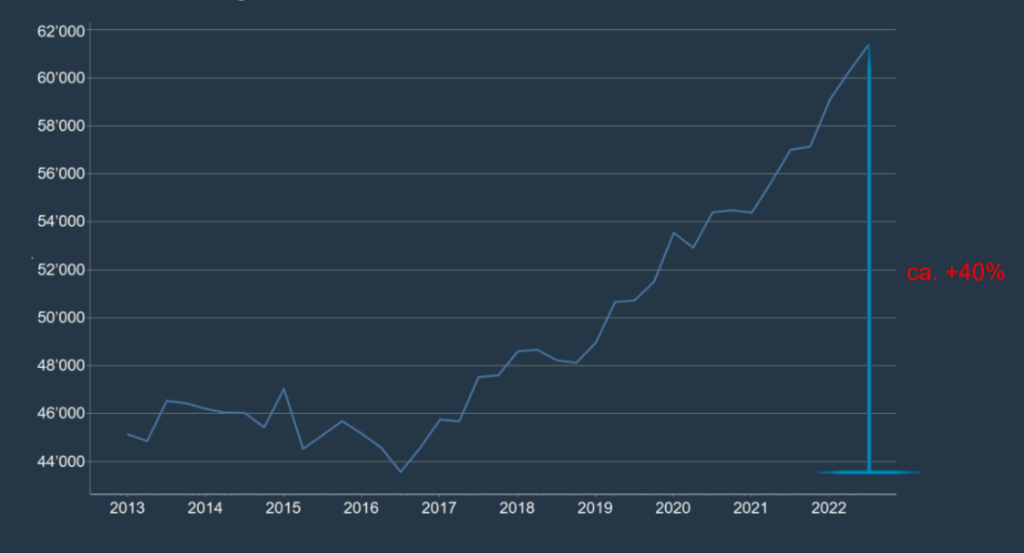 As is well known, 2019 was the last 'normal' year for the automotive industry. New-car registrations have seen steep declines since COVID-19 disrupted markets in 2020 and 2021. While some had hoped for a recovery in 2022, the war in Ukraine is fuelling further uncertainty. Switzerland is less reliant on Russian gas than neighbouring Germany, with inflation being significantly lower than elsewhere in Europe, but a sense of disillusion remains.
There are ongoing concerns that the current energy crisis could negatively impact the further development of electromobility. The Swiss automotive industry association Auto-Schweiz said this month that in the short term, the country's power supply for the coming winter must be secured 'through effective measures on the production side and through sensible savings on the consumption side.'
The body emphasised that in the medium to long term, the nation should push ahead with the expansion of low-CO2 domestic electricity production to become as independent as possible, and also to power EVs. The association monitors new-car registrations in Switzerland, which have seen further declines this year.
Improvement not in sight
'Since 2020, we have recorded historically low new-car registrations. In 2022, too, new-car registrations have so far lagged behind the unsatisfactory levels of the two previous years. An improvement is not in sight under these conditions,' said Annen.
New-car registrations have dropped by 30% from January to August this year, compared to the same period in 2019. The share of new petrol and diesel passenger cars continues to shrink while BEVs, hybrid-electric vehicles (HEVs), and plug-in hybrids (PHEVs) have grown significantly in the past three years. Their combined market share has reached almost 49% so far this year. Meanwhile, LCV registrations are significantly down in 2022 – the second time since the pandemic hit, Annen cautioned.
Making up ground
Fewer vehicles on the new-car market mean fewer cars on the used-car market, which started to recover in 2021, nudging up 1.1% year on year. However, things are different in 2022. During the first half of the year, 390,649 cars changed ownership compared to 426,971 during the same period in the prior year, marking a notable decline.
Changes of ownership for passenger cars, Switzerland, January-June 2013-2022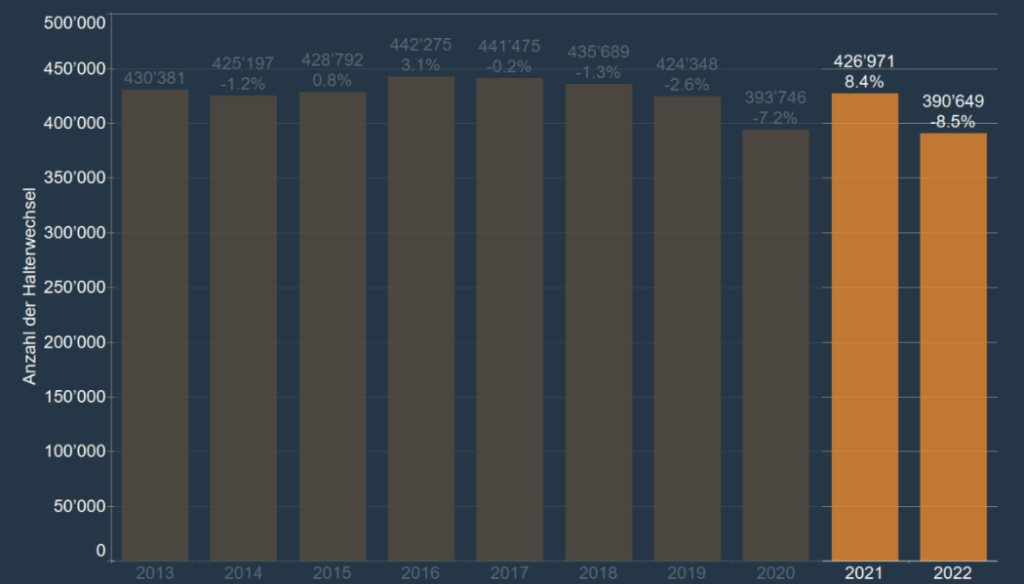 'This confirms that the low number of new-car registrations since 2020 has had a negative impact on changes of ownership, as there is simply no new supply,' said Schneider. But is it all doom and gloom?
'Hybrids, battery-electric vehicles, and plug-in hybrids are continuing to make up ground and can gain market share. In the passenger-car segment, offers have recovered somewhat and offer days have increased again,' added Schneider.
Used LCVs have not quite reached the same level during the first half of 2022 compared to 2021 but are still above levels seen in 2020. Motorhomes in particular have gained market share, with Schneider saying that the supply of second-hand LCVs has been stable for months, albeit at a low level.
Higher RVs expected in 2022
Madas highlighted some residual-values trends. 'By the end of 2022, we expect higher residual values for all fuel types,' he said.
For 36-month-old vehicles, Madas is anticipating a year-on-year rise of 11%. He noted that RVs of young BEVs, ranging from 12-36 months, have seen a particular increase. Among 12-month-old cars, BEVs even take first place in terms of RV retention, with a retail value of 82.3% on average. Apart from BEVs, RVs of older cars, those exceeding four to five years of age, as well as diesel cars, have seen the steepest rise.
RV trends in Switzerland since January 2020

Demand has remained relatively stable so far and supply is inching up, too, despite long delivery times and fewer new cars entering the market. However, as the demand side starts to weaken already, pressure on RVs is to be expected.
Offer prices continued to rise during the first six months of 2022 but are now stabilising. On average, prices are up 16% compared to February 2020. Looking further ahead, however, RVs are projected to decline slightly in 2023.
Find the full slide deck for the presentation (in German) below. A video of the webinar is also available for viewing and download.